When Pharmaceutical Corporate Criminals Rule:
the Advocates will Betray Us, the Doctors Will Lie to Us, and
We All Will Swallow the Bitter Poison Pill


Why isn't anything (or at best very little) being done to stop the lies and crimes?
There are no magic answers or silver bullets when it comes to answering this question. The behaviors are so ingrained and meshed into the fabric of are lives and society that the steps that will have to be taken in rectifying all the wrong doing and criminal activity will be a long arduous task
with a bitter and painful price to pay.
Pharmaceutical Corporations have hijacked our entire Health Care System and are holding it for ransom.
They have stern control of all the safe guards in our democracy from the FDA, doctors, academia, research facilities, legislative branches, our media, free press, and even our justice system firmly wrapped around their greedy fingers.

There are still small pockets of critical thinkers, social skeptics, and citizen patriots out here pounding away with the message; that gives us small glimmers of hope for change and accountability before we allow Mega Corporations that have no conscience or ethical standards to take complete control of our individual lives.
The examples are numerous and cast a very broad net within every segment of our society and institutions.
NAMI

,

DBSA

,

CABF

and alike false advocacy organizations preach only one message in truth and practice. That is a message that

Pharma

controls and funds. The message is that you or your child or anyone else is most likely suffering from a incurable disease that can only be treated with a medicine Pharmaceutical Corporations produce and sell you for a life time. Their scare message is quite clear, focused, and unbending "you are diseased, and you must medicate, or you will die"
We are also far into the process of creating an institutionalized Mental Health Court System throughout our nation that subverts the constitutional rights of anyone deemed diseased with a single entrenched medication based medical modality. That modality is medication forced compliance that our courts can rule upon anyone medicine deems diseased. What happens if you refuse that pill on constitutional grounds. You are deemed one or all of three categories; gravely disabled, considered a risk to yourself or others, in-which you can be held indefinitely while being confined to a locked institution without committing any crime what so ever. You are in essence found guilty by medicine's proxy and rubber stamped by our courts. Who does this benefit the most; you know that answer already.
I have already discussed before how mass media, higher education, and doctors are addicted to the money pharmaceutical corporations flood into their pockets. So they have a huge financial stake in this criminal activity conducted under the ruse of medicine. They spread the pharmaceutical marketing message and practice like it's ordained holy gospel. Never stopping for even a moment to ask critical questions that effect hundreds of millions of their trusted patrons health and lives in serious and adverse ways.
Again in this post I have selected a couple of articles shining light upon an out of control pharmaceutical criminal industry. Feel free to scroll down past this post for other articles I have found and share here.


___________________________________________

grassley

-to-expose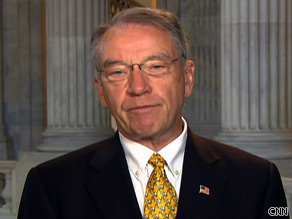 Alliance for Human Research Protection reports:

Senator Charles

Grassley

has set about to bring to public attention inexorable financial conflicts of interest that have rendered major professional medical and advocacy groups--including the American Medical Association, the American Cancer Society, the American Psychiatric Association, the National Alliance on Mental Illness (

NAMI

, formerly the National Alliance for the Mentally Ill)--into promoters of pharmaceutical products. Sen.

Grassley

has sent letters to these groups asking for detailed financial information.

Dr. H. Richard Lamb, a board member of

NAMI

since 2005, resigned, stating in his letter of resignation--which he sent to Sen.

Grassley

--that he was "shocked to learn that approximately half of

NAMI's

income comes from the large pharmaceutical companies." Furthermore, Dr. Lamb wrote that although

NAMI

officials assured him that this would change, "very little has changed, right up to the present day."

In an interview with Times reporter, Gardiner Harris, Dr. Lamb said that "

NAMI's

dependence on the drug industry made some actions impossible. For instance, Dr. Lamb said that

NAMI

should consider warning against the use of some mental health drugs with life-threatening side effects. But the organization could not consider such a move since doing so could threaten much of its funding."



NAMI's

betrayal of trust is far more egregious that corporate crime: Pharmaceutical companies that have been caught failing to warn about life-threatening drug effects have paid billions of dollars in fines and criminal penalties.



NAMI

presents itself as a patient advocacy organization: its tax exempt status depends on it being a not-for-profit organization. However, by giving priority to income from pharmaceutical companies to the life-safety of people diagnosed with mental illness--on whose behalf

NAMI

claims to speak--

misbrands

NAMI

, as shill for psychotropic drug manufactures, as a patient advocacy group.

In the spirit of full disclosure:
Many years ago, I resigned from the board of directors of

NYS

NAMI

precisely because of the organization's shift from advocating for the human interests of patients to the commercial interests of the pharmaceutical industry and its handmaidens, the prescribing psychiatrists.

________________________________________________________

Big

Pharma's

Bitter Pill
big-

pharmas

-bitter-pill
<-------I would strongly suggest you read this entire article at the link I have provided you here.
What is their tactic?

They want to scare us into believing that their research and development (R&D) budget and their ability to invent the next great life-saving drug depend on their continuing to rake in enormous profits.

We want new life-saving drugs. Should we be scared?

No! They're crying wolf. Here are the facts:

Drug companies were rated the third most profitable industry in the U.S. in 2007 by Fortune magazine. In 2007 alone, the top 12 drug makers reaped combined profits of $78,600,000,000 (billion). The industry's most profitable member,

Novartis

, netted $11,900,000,000 (billion) in 2007, 67 percent more than in 2006. Pharmaceutical companies have plenty of revenues to cover R&D for a very long time.




In 2004, drug makers spent, on average, nearly one-third (32 percent) of their revenues on marketing, administration and advertising, compared with less than half as much (14 percent) on all R&D. With total industry revenue approaching an estimated $285 billion, that means more than $90 billion a year is spent on marketing, compared to about $40 billion is spent on R&D. And even some of the expenses they count as R&D are payments to doctors to conduct unnecessary clinical trials that are aimed not at research findings, but getting more patients on the latest more expensive medicines before they are FDA approved.




New 'breakthrough' drugs, actually account for only a small proportion of medicines produced by drug companies. The majority of drugs that the drug industry develops each year are so-called "me too" drugs—modified forms or new uses of existing drugs that do not provide needed medical advances.




Pharmaceutical companies have been developing more drugs for profit than for need. According to the Government Accountability Office (GAO), "Over the past 10 years, the trend in the pharmaceutical industry has been to focus on developing drugs that produce a high return on investment, which has reduced the numbers and types of drugs produced." The GAO report further noted that "companies frequently choose to stop developing drugs that do not offer the same revenue-generating potential as blockbuster drugs, even though they could be highly innovative and offer therapeutic advances."




The industry exaggerates the role of private drug companies in the R&D of 'breakthrough' drugs. Taxpayer-funded research, particularly by the National Institutes of Health (NIH), forms a significant foundation for R&D by private drug companies. Only 5 out of the 21 most influential drugs introduced between 1965 and 1992 were developed entirely by the pharmaceutical companies.




Across the country, pharmaceutical companies ply doctors with freebies—everything from free lunches to cash payments to fancy junkets—to encourage them to prescribe their brand of drugs. The cost of these giveaways is usually considered "education" not "marketing." In Vermont, in two years alone, $2.28 million in such payments were disclosed under that state's public disclosure law—and another $3.41 million in payments was shielded from disclosure on "trade secret" grounds. If they spend nearly $6 million in a small state like Vermont, can you imagine how much they are spending across the country? Imagine is all we can do because the vast majority of states do not require disclosure. And those are the legal payments.The New York Times, "Pfizer agreed to pay $430 million and pleaded guilty to criminal charges involving the marketing of the pain drug

Nuerontin

...

AstraZeneca

paid $355 million last year and TAP Pharmaceuticals paid $875 million in 2001; each pleaded guilty to criminal charges of fraud for inducing physicians to bill the government for some drugs that the company gave the doctors free." A new study estimates that drug companies spent $57 billion dollars on marketing to doctors in 2004 alone. According to a 2004 article in
Of course they don't just use the profits to advertise existing drugs, or tweak formulas enough to extend patents with "new" versions of the same drug (when they're not just paying off generic manufacturers to stay out of the market). Some of it goes to paying off huge criminal fines for promoting drugs for unapproved uses. (A paltry sum, compared to their profits from the same activity that got them fined.) They invest some of it to keep 2.3 lobbyists for every lawmaker on Capitol Hill. And the return on their investment has been a deal with the White House that's just loaded with giveaways and huge benefits for the pharmaceutical industry.
Call it what you want. But don't call it "free market."
Is there anybody who believes that America is about competition? If you believe that America and business love competition, please email me because I have some swamp land ocean-front property to sell you out in Idaho. Think about that period in American history after World War II. The big companies got bigger because of competition? No. Of course, there are a few exceptions but as a rule big companies split up the marketplace. Whether it was General Motors, Ford and Chrysler or, in steel, United States Steel, Republic and Bethlehem, these big companies split up the marketplace and made profits. There was no competition. None.

Now, it looks like we have more information on the pharmaceutical companies. They paid generic drug companies to keep their generics off the market. Is anyone really surprised? There is so much money in pharmaceuticals that drug companies are able to pay off these generic companies so that everybody makes money but, and this is important, the pharmaceutical companies make a ton more money and the consumers pay a ton more money. Everybody wins except the consumers.
The Senate is debating health care reform right now. All kinds of deals are apparently on the table and one of them is the White House deal with Big

Pharma

. Deals will inevitably be made, and perhaps the Big

Pharma

deal is one that shouldn't


Dramatically raising prices ahead of reform, or paying off generic manufacturers to keep their less expensive products off the market, this particular brand of payola comes at a high price — and not just the one the customer faces at the pharmacy cash register, but the price payed in the lives of those who will walk back out of the pharmacy's doors without their prescription. Or those who never make it to the pharmacy, but put their prescriptions in a drawer and try to figure out how to get by without them.
That's because unlike any number of products we can do without or put off purchasing until things get better financially, people need their medicines. Some of them, like myself, need them to live better (and perhaps longer, considering that a reflux condition like mine can lead to esophageal cancer if left untreated). Some of us need them to live period. As Sen. Debbie Stabenow was reported to have said in the New York Review of Books article quoted above, "It's not like buying a car or tennis shoes or peanut butter."
If prescription drugs were like ordinary consumer goods, all this might not matter very much. But drugs are different. People depend on them for their health and even their lives. In the words of Senator Debbie Stabenow (D-Mich.), "It's not like buying a car or tennis shoes or peanut butter." People need to know that there are some checks and balances on this industry, so that its quest for profits doesn't push every other consideration aside. But there aren't such checks and balances.

A hat tip goes out to pharmagossip for finding this article

_____________________________________________________